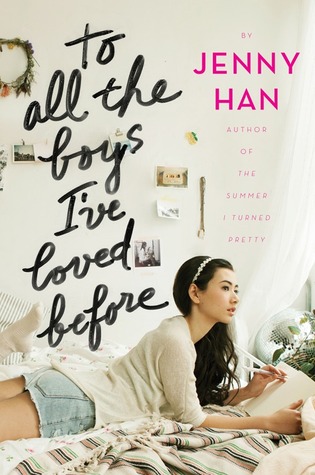 Title:
To All the Boys I Loved Before
Author:
Jenny Han
Publish Date:
April 15 2014
"To All the Boys I've Loved Before is the story of Lara Jean, who has never openly admitted her crushes, but instead wrote each boy a letter about how she felt, sealed it, and hid it in a box under her bed. But one day Lara Jean discovers that somehow her secret box of letters has been mailed, causing all her crushes from her past to confront her about the letters: her first kiss, the boy from summer camp, even her sister's ex-boyfriend, Josh. As she learns to deal with her past loves face to face, Lara Jean discovers that something good may come out of these letters after all."
Cover:
Seriously, just look at it. The background just looks like something I would reblog on Tumblr, and the sharpie marker looking font, you just cant
not
love it.
StoryLine:
You know what? I think I'm on a contemporary romance kick right now. Two contemporary romance books in a row is a rare occurrence for me. Out of all the books I own, I think I believe I only own 9 contemporary romances, 6 of which are Sarah Dessen. But I was wandering around the library this afternoon, and To All the Boys I've Loved Before caught my eye. I know that the sequel just came out, and I know that a lot of people adored this book. And I mean will you look at that cover? So I picked it up. I have 6 more books on my May TBR list, and I wanted to work on some of them next. I figured after one or two books, I would start this one. I read the first page for curiosity's sake, and next thing I know I'm reading the last line and wondering where the last 6 hours went.
I was so sucked into this book, I don't think I could put it down even if I wanted to. It was such a fun, fast paced read, I was sad when suddenly it was over. Especially sense I don't have the sequel, and couldn't immediately see what happens next. The direction this book went took me by surprise, but I guess it shouldn't have. From the first few chapters I had this distinct idea of what would happen, and I was sort of dreading it. It wasn't until almost half way that I started to realize how wrong I was. I knew there was a sequel, I knew it, and yet when the pages left started to dwindle, and everything wasn't happy ever after, I started to panic. I was so engrossed in Lara Jean's story, I wanted it all to work out and be wrapped up in a little bow. And instead, of course, of course, there was a cliff hanger. Why do you do this to me Jenny Han? My heart can't take it.
Characters:
It's kind of funny how much I connected with Lara Jean, considering we are quite different. She's so good and pure. I remember there's this scene where she found out that someone cheated on a quiz in 7th grade and she was appalled. And all I can think is hasn't everyone cheated at least once? I remember high school, some teachers practically asked you to cheat. Even in AP courses, teachers stepping out for 5 minutes in the middle of the test, allowing 2 days to complete tests, giving take home tests, and of course the students are going to compare answers. But she still had spunk, and a wild side, and I wonder how couldn't you connect with her?
I loved the family dynamic between Lara Jean, Margot, Kitty and their dad. They fight sometimes, but they are always there for each other, they support each other, like a real family. It's always so good to read a contemporary romance where the family play an important role. I also like Josh, and Peter, and Peter's friends
Parting Thoughts:
This book was such a quick fun read, and I can't wait to get my hands on the sequel. Like, now, preferably.
5/5 Stars