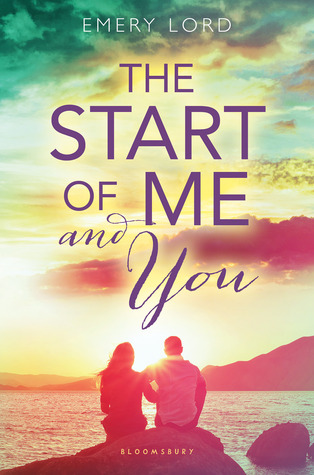 Title:
The Start of Me and You
Author:
Emery Lord
Publish Date:
March 31st 2015
"Following her pitch-perfect debut Open Road Summer, Emery Lord pens another gorgeous story of best friends, new love, & second chances.
Brimming with heartfelt relationships and authentic high-school dynamics The Start of Me and You proves that it's never too late for second chances.
It's been a year since it happened—when Paige Hancock's first boyfriend died in an accident. After shutting out the world for two years, Paige is finally ready for a second chance at high school . . . and she has a plan. First: Get her old crush, Ryan Chase, to date her—the perfect way to convince everyone she's back to normal. Next: Join a club—simple, it's high school after all. But when Ryan's sweet, nerdy cousin, Max, moves to town and recruits Paige for the Quiz Bowl team (of all things!) her perfect plan is thrown for a serious loop. Will Paige be able to face her fears and finally open herself up to the life she was meant to live?"
Cover:
The cover just screams "Summer Read". One look at the cover, and I knew it would be a cute fun light hearted read.
StoryLine:
I don't read contemporary that often. I'm more of a fantasy kind of girl, I love being swept up in a new world, surrounded by the impossible. But sometimes, I get a craving. Like hot chocolate, or ice cream, sometimes I crave the comfort of a heartwarming contemporary novel. Today, I woke up with that craving, and this book seemed like just the fix. I sat down, and turned to the first page. 5 hours later I was reading the last line and grinning like a damned fool. If you don't count the bathroom breaks (both mine and my pups), I read this is one sitting. I read it while I walked to the kitchen, while searched through the fridge, while I fried up some eggs. I couldn't put it down, it was so engaging and sweet, I just couldn't pull my eyes away. Yes, it's filled with cliches, yes it was predictable, but damn if I didn't find myself teary eye at the sad moments, fluttering at the sweet moments, and smiling at the joyous moments. Like Max says: "knowing
what
happens isn't the same as knowing
how
it happens. Getting there is the best part".
Characters:
Speaking of, I absolutely adored Max, he was nerdy, sweet, passionate, perceptive, and open. From the moment we saw him standing alone in the office reading, my heart melted. I liked Paige best when she was with him, it was the only time she wasn't guilty, or said, or weak, or trying to hide behind a mask. She was the most her around him and that's how it should be. And I really loved Paige's friends, Tessa, Morgan, and Kayleigh. They were also so different, and yet they fit together so seamlessly. They were amazing friends, but I felt of the three, we knew Kayleigh the least. Morgan was a feminist, a gossip and a hopeless romantic, Tessa had this whole boho feel about her, loved yoga, music, and food, and she was sort of the ring leader and mother hen. But all that really stuck out about Kayleigh is that she had an out of town boyfriend. And I think she was described as bold when we first met her. I also really enjoyed Ryan Chase, Paige's dad, and Paige's grandma.
Parting Thoughts:
With a sweet story, sweet characters, and a sweet ending, this book was a chocolate chip cookie dough milkshake, sweet and satisfying.
4.5/5 Stars