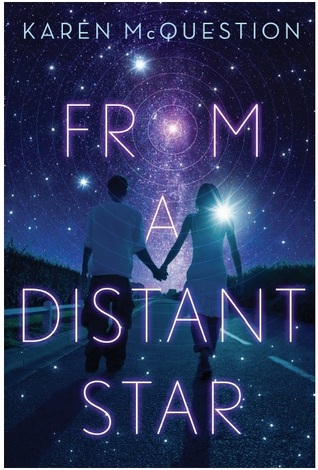 Title:
From a Distant Star
Author:
Karen McQuestion
Publish Date:
May 19th 2015
"Seventeen-year-old Emma was the only one who hadn't given up on her boyfriend, Lucas. Everyone else—his family, his friends, his doctors—believed that any moment could be his last. So when Lucas miraculously returns from the brink of death, Emma thinks her prayers have been answered.
As the surprised town rejoices, Emma begins to question whether Lucas is the same boy she's always known. When she finds an unidentifiable object on his family's farm—and government agents come to claim it—she begins to suspect that nothing is what it seems. Emma's out-of-this-world discovery may be the key to setting things right, but only if she and Lucas can evade the agents who are after what they have. With all her hopes and dreams on the line, Emma sets out to save the boy she loves. And with a little help from a distant star, she might just have a chance at making those dreams come true."
Cover:
I have to admit, galaxy-esque covers will get me every time. Slap some stars on a cover, and you'll instantly have my attention. Stars are just so stunning, and covers with a galaxy full of stars are just so striking I simply can't resist. I also really love the font, and together this cover is 10 kinds of gorgeous.
StoryLine:
This book started out pretty slow, we didn't see any action actually start to happen until about 50% of the way through the book. Then, the pace continues to increase right up to the end, feeling a bit rushed. But apart from the obvious pacing issues, the storyline was cute and fun. The first half the book revolves around Lucas's cancer and sudden recovery. During this time, Emma, Lucas's girlfriend, and Eric, Lucas's brother, start to realize that he seems off, and almost appears to be a different person. And for half the book, that's all that happens. Then, Emma and Lucas/Scout set out on a roadtrip to solve their problems and for the next ~25% we are roadtripping. I actually enjoy road trips in books, but I know that not everyone does. The last 25% of the book is when things are revealed, people and such become connected, and problems get solved. So about two thirds of plot is shoved in that last portion, in makes the plot feel rushed.
Characters:
I did not like the main character, Emma, at first. She did a little of whining about everything, and she was just meek and weak. Mrs. Walker, Lucas's mom, was a total b-word and was absolutely insufferable, and Emma just layed down and took all the insults and disrespect that Mrs. Walker threw at her. Emma did finally sort of grow a bit towards the end, but I would have liked to see her stand up to her. Another thing I didn't like was the fact that were are told constantly by Emma how
in love
her and Lucas are, and how
totally different
they were from every other high school couple that fancies themselves in love, and how
completely intertwined their souls are
, ect. But, obviously, we never get to see this, and based how everyone else acts about their relationship, it just felt false to me. You can't just tell the audience how heart-stopping, jaw-dropping, earth-shattering in love to characters are, you have to show it. Instead, Emma just seemed like every other cliche over-dramatic naive teenage girl. I did really enjoy Eric and Scout, though.
Parting Thoughts:
Overall, it was a cute story, but the pacing issues, and the behind the scenes relationship just really held this book back for me. It was enjoyable enough, but I was just left feeling like this book missed out on some of its potential.
3/5 Stars