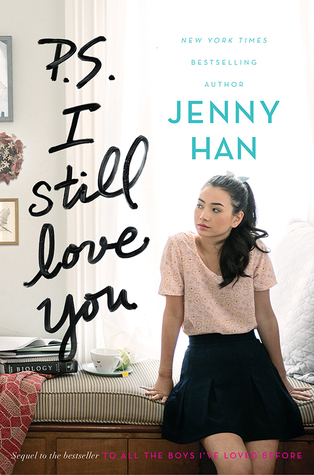 Title:
P.S. I Still Love You (To All the Boys I've Loved Before #2)
Author:
Jenny Han
Publish Date:
May 26th 2015
"Lara Jean didn't expect to really fall for Peter.
She and Peter were just pretending. Except suddenly they weren't. Now Lara Jean is more confused than ever.
When another boy from her past returns to her life, Lara Jean's feelings for him return too. Can a girl be in love with two boys at once?
In this charming and heartfelt sequel to the New York Times bestseller To All the Boys I've Loved Before, we see first love through the eyes of the unforgettable Lara Jean. Love is never easy, but maybe that's part of what makes it so amazing"
StoryLine:
Phew, this book put me through a bit of emotional turmoil. After the cliffhanger that To All the Boys I Loved Before had (Review
here
), P.S. I Still Love You couldn't come out fast enough. I
had
to know what happens next with LAra Jean and Peter. I was so ready for there to just be a happy ever after right of the bat. I didn't want to see Lara Jean and Peter have to struggle anymore, but alas, how boring would that have been. So instead Han sent my emotions through the blender, and for the last 1/4 of the book I started to panic. What is going to happen? Is Han really going to do this to me? No, I don't want to see any cute scenes, stop playing with my emotions. You can ask my boyfriend, I was very verbal about my worries and objections. With this aching need to know what happened next, I flew through this book. My boyfriend had to physically take the book from my hand to get me to eat dinner: "they'll still be there when you get back".
Characters:
Lara Jean annoyed me a bit in this book. I definitely understood her jealousy, I would have felt the same way, but she was a bit of a hypocrite and she made stupid rash decisions. There was some more sweet sisterly love in this book, which I loved. The family dynamic here is awesome. I especially love Kitty, she is my favorite character. She's got such spunk, and she is so determined, I just love her. I, of course, loved Peter, he is perfect. And I even grudgingly liked boy #2.
One thing that really annoyed me though, was at the end of TAtBILB, Gen flat out told her why she hates her and why the stopped being friends. In the end of PSISLY, we see this almost exact same scene played out again, like its some new revelation. Lara Jean seems
shocked
when she finds out. She already knew this, she already told her, but they both acted like they didn't already discuss this 4/5 months ago. It's a little detail, but it bugged the crap out of me.
Parting Thoughts:
After much await (well 6 days for me, but still), this is a pleasant ending to Lara Jean's story.
4/5 Stars