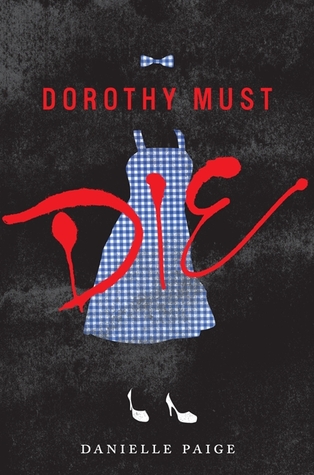 Title:
Dorothy Must Die
Author:
Danielle Paige
Publish Date:
April 1st 2014
"I didn't ask for any of this. I didn't ask to be some kind of hero.
But when your whole life gets swept up by a tornado - taking you with it - you have no choice but to go along, you know?
Sure, I've read the books. I've seen the movies. I know the song about the rainbow and the happy little bluebirds. But I never expected Oz to look like this. To be a place where Good Witches can't be trusted, Wicked Witches may just be the good guys, and winged monkeys can be executed for acts of rebellion. There's still a yellow brick road - but even that's crumbling.
What happened? Dorothy.
They say she found a way to come back to Oz. They say she seized power and the power went to her head. And now no one is safe.
My name is Amy Gumm - and I'm the other girl from Kansas
I've been recruited by the Revolutionary Order of the Wicked.
I've been trained to fight.
And I have a mission."
StoryLine:
What if home was no longer good enough? What if Dorothy went back? What if she and all her companions became corrupted with power? I loved seeing these questions explored in this book. Going back to Oz and seeing how much everything has changed since the original story was fun. The Oz we once knew is no more, and instead of a happy place, the very magic of the land is being harvested for Dorothy's gain. The imaginite sort of post apocalyptic/dystopian sort of take of Oz was interesting to see, and felt both creatively new and familiar enough to really show the new horrors that have become of the land. I also enjoyed the plot, even though at times it was predictable.
Characters:
We got to see all our old favorite lovable good guys from the original story twisted and corrupted almost beyond recognition. We also get to meet a whole cast of new characters as well. I really enjoyed our main character's brand of humor and snarkiness, and I found myself laughing out loud a couple times with this book. Danielle Paige did a really good job twisting good and wicked upside down and making us root for the "bad" guys while despise the "good" guys. And I loved Nox, got to love the dark mysterious guy, right?
Parting Thoughts:
All and all, Dorothy Must Die was a fun entertaining read, and I look forward to piking up the next installment.
4/5 Stars