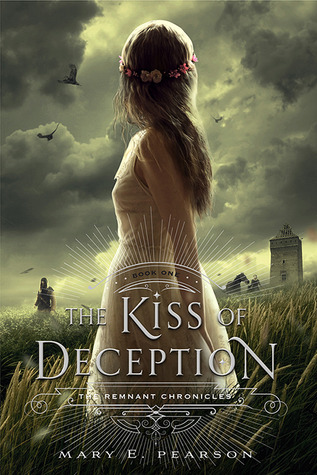 Title:
The Kiss of Deception
Author:
Mary E. Pearson
Publish Date:
July 8th 2014
"A princess must find her place in a reborn world.
She flees on her wedding day.
She steals ancient documents from the Chancellor's secret collection.
She is pursued by bounty hunters sent by her own father.
She is Princess Lia, seventeen, First Daughter of the House of Morrighan.
The Kingdom of Morrighan is steeped in tradition and the stories of a bygone world, but some traditions Lia can't abide. Like having to marry someone she's never met to secure a political alliance.
Fed up and ready for a new life, Lia flees to a distant village on the morning of her wedding. She settles in among the common folk, intrigued when two mysterious and handsome strangers arrive—and unaware that one is the jilted prince and the other an assassin sent to kill her. Deceptions swirl and Lia finds herself on the brink of unlocking perilous secrets—secrets that may unravel her world—even as she feels herself falling in love."
In my culture, arranged marriages are not a thing. And while I know in some cultures, they are just a fact of life, the thing that gets me the most about arranged marriages, is not only does the girl not get to choose who she spends the rest of her life with, but she also has to have sex with the guy. I believe that a girl should get to choose if and who she has sex with, so the idea of a girl being forced to have sex with someone who often times is nothing more than a stranger, doesn't sit well with me. And, because of that, I completely back what Lia did when she ran on her wedding day. Not only were they placing the responsibility of two kingdoms on the shoulders of a 17 year old girl, they didn't even so much as ask her how she felt before making the decision for her, and they denied her request to even see her betrothed for fear of insulting the other king. That's not right to me, and I would have ran too.
I went into this book totally blind. I had seen it on Instagram a few times, but I had no idea what it was about or what to expect. I love when I blind read turns out great. I was instantly sucked into Lia's story and had a hard time putting the book down. The storyline kept me engaged, and I really connected with the characters. And that plot twist! It caught me so off guard, and it's a rarity that I don't see a plot twist a mile away. At first I was so convinced that I read it wrong, and then I went back and spot read chapters trying to see how I had gotten it so backwards. The best part was, no where could I find anything that contradicted the twist. Pearson spin in details and left enough gaps that I filled in with my own assumptions. I hate when a crazy twist is contradicted by earlier text, making the twist unbelievable.
I felt really connected to the characters as well. I've been on a bit of a MC disconnection streak, so it felt good to finally read another book where I like the main character and cared what happened to her. Not just Lia, but Pauline, Berdi, Gwyneth, Rafe, and Kaden. They all felt real and distinct to me, and even the bad guys I found myself grudgingly caring about.
This book was an unexpected surprise to me: I wasn't expecting to love it so much. And now I'm impatiently waiting to get my hands on The Heart of Betrayal (if anyone has an ARC they are willing to share I totally wouldn't object)!
5/5 Stars