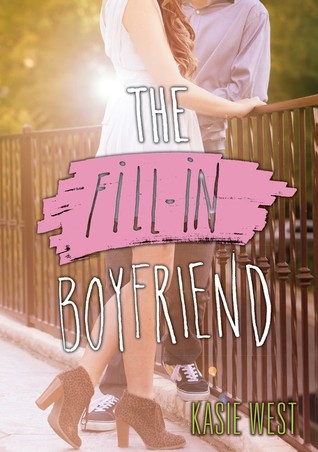 Title:
The Fill-In Boyfriend
Author:
Kasie West
Publish Date:
"When Gia Montgomery's boyfriend, Bradley, dumps her in the parking lot of her high school prom, she has to think fast. After all, she'd been telling her friends about him for months now. This was supposed to be the night she proved he existed. So when she sees a cute guy waiting to pick up his sister, she enlists his help. The task is simple: be her fill-in boyfriend— two hours, zero commitment, a few white lies. After that, she can win back the real Bradley.
The problem is that days after prom, it's not the real Bradley she's thinking about, but the stand-in. The one whose name she doesn't even know. But tracking him down doesn't mean they're done faking a relationship. Gia owes him a favor and his sister intends to see that he collects: his ex-girlfriend's graduation party — three hours, zero commitment, a few white lies.
Just when Gia begins to wonder if she could turn her fake boyfriend into a real one, Bradley comes waltzing back into her life, exposing her lie, and threatening to destroy her friendships and her new-found relationship."
StoryLine:
Another thing that I'm finding I like about contemporary novels is I can easily finish them in a matter of hours, in one sitting. There's just something so satisfying about that. And this book is no exception. As cheesey as it might be, there's just something I really love about the whole "pretend to be in love and then accidentally catch feelings" trope. It's just so heartwarming and sweet, and it a bit early to say this (I haven't read too many contemporary novels) but I don't think I'll ever tire of it. This novel was just so sweet and cute. I was simultaneously both maddened and intrigued by the fact that we didn't learn the Fill-In Bradley's name until about a third of the way into the novel. I was satisfied with what his name ended up being though, it's a cute name (and no I'm not going to tell you what it is, you'll have to read it and find out for yourself).
Characters:
I didn't like Gia at the start of the book, she was self centered and way to concerned with validation. Her character arc was pleasing, and by the end of the story, I found myself liking her. I loved Bec, she was just so real and sure of herself and want she wanted. I also, of course, loved Fill-In Bradley, who was slightly geeky, and adorable, and such a gentleman. His mom was also pretty awesome. Of the rest of the side characters, the only one I found alright-ish was Claire, though aside from being sweet she seemed a bit flat. Gia's family look perfect from the outside, but they definitely aren't. And Gia's friends, family, and most of the rest of the characters all shared two traits: shallow and judgemental.It sort of got to the point where I was like "ok is anyone not shallow and judgemental?" And I know that was part of the point, but it seemed a bit unbelievable that
everyone
could be like that.
Parting Thoughts:
Despite the sort of unrealistically shallow characters, this was a sweet heartwarming story.
4/5 Stars