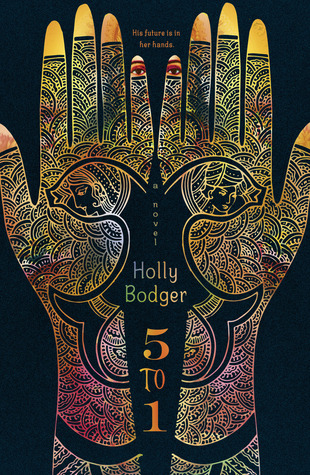 Title:
5 to 1
Author:
Holly Bodger
Publish Date:
May 12th 2015
"In the year 2054, after decades of gender selection, India now has a ratio of five boys for every girl, making women an incredibly valuable commodity. Tired of marrying off their daughters to the highest bidder and determined to finally make marriage fair, the women who form the country of Koyanagar have instituted a series of tests so that every boy has the chance to win a wife.
Sudasa, though, doesn't want to be a wife, and Kiran, a boy forced to compete in the test to become her husband, has other plans as well. As the tests advance, Sudasa and Kiran thwart each other at every turn until they slowly realize that they just might want the same thing.
This beautiful, unique novel is told from alternating points of view-Sudasa's in verse and Kiran's in prose-allowing readers to experience both characters' pain and their brave struggle for hope"
Cover:
I love this cover! Its colorful and striking and beautiful. The image is repeated at the start of the section for each new day, and the characters that are in the hand are repeated each time the POV switches. It's so pretty.
StoryLine:
This story is told in two alternating points of view: Five, whose points of view are in prose, and Sudasa, whose points of view are in verse. I've read many of Ellen Hopkins book, which if you are unfamiliar, are written entirely in verse. And even though her works were my experience with books written in verse, I loved them, and when I started the book and saw that it was written half in verse, I was so excited. And it was beautiful, not only was the form that Sudasa's POV was written in poetic, but the writing itself was beautiful and poetic as well. I devoured Holly Bodger's writing. I found myself rereading pages just to savor them and commit them to memory. The writing was really what made this book for me. I don't reread books too often, my TBR is much too large to allow such a thing, but 5 to 1 is a book that I can see myself reread a couple times. Not only is the writing beautiful, but it's such a quick read. I finished 5 to 1 in about 2 hours.
I really loved the world building here, the horrors of how the world was before, the utopia that the founders were (and still are) sure they were creating, the secrets of said utopia that slowly unfold to reveal the harsh truth underneath. And I loved the fact that Holly Bodger included lots of things from Indian culture, although I was that some of the terms and names were explained, since I am not familiar with Indian culture. Except, I can kind of see how that would add authenticity to the voices: do you regularly in your thoughts stop and explain every food, clothing item, dance, ect. from your culture that outsiders wouldn't understand?
Characters:
You would think, because 5 to 1 was half told in verse, the characterization would suffer. And while Sudasa's POV would have about 1/5 as many words a chapter as Five's, I still connected to both Sudasa and Five. And I felt that the secondary character's felt real. Sudasa's father and the young contestant were two of my favorite characters, and Nani was so frustrating, I just didn't like her, which was the point.
Parting Thoughts:
I just loved this book, interesting world build and premise with likeable characters, but what really elevated this book was Holly Bodger's gorgeous writing!
5/5 Stars