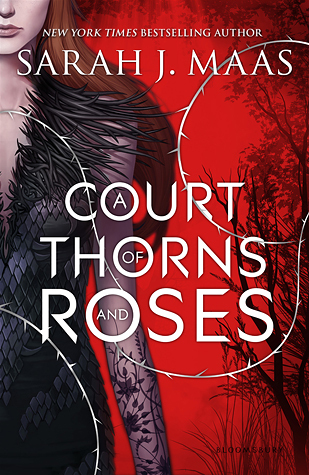 Title:
A Court of Thorns and Roses
Author:
Sarah J. Maas
Publish Date:
May 5th 2015
"A thrilling, seductive new series from New York Times bestselling author Sarah J. Maas, blending Beauty and the Beast with faerie lore.
When nineteen-year-old huntress Feyre kills a wolf in the woods, a beast-like creature arrives to demand retribution for it. Dragged to a treacherous magical land she only knows about from legends, Feyre discovers that her captor is not an animal, but Tamlin—one of the lethal, immortal faeries who once ruled their world.
As she dwells on his estate, her feelings for Tamlin transform from icy hostility into a fiery passion that burns through every lie and warning she's been told about the beautiful, dangerous world of the Fae. But an ancient, wicked shadow grows over the faerie lands, and Feyre must find a way to stop it . . . or doom Tamlin—and his world—forever.
Perfect for fans of Kristin Cashore and George R. R. Martin, this first book in a sexy and action-packed new series is impossible to put down!"
Story Line:
I know I've said this before, but I love fairytale retellings. And Beauty and the Beast has always been one of my favorite Disney movies (along with the Little Mermaid, Mulan, Pocahontas, the Lion King, Aladdin, and Brother Bear). I loved seeing all the themes and references to Beauty and the Beast, but A Court of Thorns and Roses is
so much more
than just a fairytale retelling. I absolutely adored Sarah J. Maas's Throne of Glass series, and was expecting no less from ACoTaR. And Maas definitely didn't disappoint! Maas has a knack for creating rich well-developed worlds. In ACoTaR Maas introduces us to a brand new vibrant world full of Fae lore. I loved getting to know the history of this world, how it got to be in the shape that it's in, and what things were like before. The Fae intrigued me greatly. I love dark faerie stories. I want to read about the brutality and the monsters and the deceit. And in this department, Maas also delivered.
"I will grind your bones between my claws; I will drink your marrow; I will feast on your flesh. I am what you dread . . . Look at me."
This book kept me at the edge of my seat. I obviously had a vague idea of how certain things would turn out, since it is a retelling, but I kept finding myself surprised by the different turns the story took. I was so hooked in to this book, I could hardly put it down. There was a lot of development in this book. I would find myself near the end of the book thinking to myself "wow, I can hardly believe that that earlier event was in this book" because it just seemed so long ago even though I finished the book in less than two days.
Characters:
Once again we get an incredibly badass female main character, Feyre. I loved Feyre, she was strong and loyal and dutiful. Even when her family gave no appreciation, she continued to singlehandedly keep her family alive year after year. And in the beginning, her family were simply
awful
. I don't know if I would have been able to do it, devote my life to supporting my ungrateful lazy family who can't even be bothered to heat water for me. I also really loved Tamlin. He was kind of perfect. And the tension between the two? Things got real hot between them sometimes. The Fire Night scene? Phew, lets just say I needed to turn up the a/c a bit.
Lucien was also awesome. I really liked him, he was much needed comedic relief. I loved the scenes with him. Alis was the perfect mandatory "no nonsense, but also tender and kind when needed" servant. And can we talk about Rhysand? He was just so intriguing.I just want to get inside his head and see how his mind works. I can't wait to see more of him.
Parting Thoughts:
What else can I say that you haven't already heard before? A Court of Thorns and Roses is amazing, and I didn't expect any less.
5/5 Stars