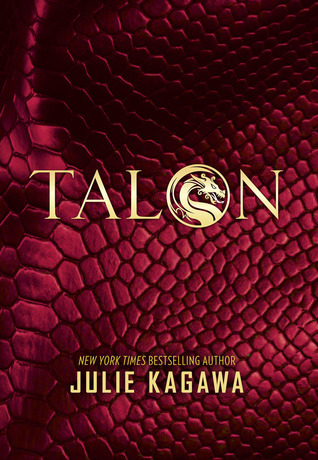 Title:
Talon
Author:
Julie Kagawa
Publish Date:
October 28th 2014
"Long ago, dragons were hunted to near extinction by the Order of St. George, a legendary society of dragon slayers. Hiding in human form and growing their numbers in secret, the dragons of Talon have become strong and cunning, and they're positioned to take over the world with humans none the wiser.
Ember and Dante Hill are the only sister and brother known to dragonkind. Trained to infiltrate society, Ember wants to live the teen experience and enjoy a summer of freedom before taking her destined place in Talon. But destiny is a matter of perspective, and a rogue dragon will soon challenge everything Ember has been taught. As Ember struggles to accept her future, she and her brother are hunted by the Order of St. George.
Soldier Garret Xavier Sebastian has a mission to seek and destroy all dragons, and Talon's newest recruits in particular. But he cannot kill unless he is certain he has found his prey: and nothing is certain about Ember Hill. Faced with Ember's bravery, confidence and all-too-human desires, Garret begins to question everything that the Order has ingrained in him: and what he might be willing to give up to find the truth about dragons."
Cover:
This book is stunning. Especially the hardcover: The dust jacket is reflective and gorgeous, the cover after you take the cover off is a larger reflective gold image of the dragon, the endsheets are red with a black image of the dragon stretched across the two pages, and section dividers are the same but black and white. Honestly, there could be giberish inside and I'll still want this book. It's just so pretty. I can see it being something a dragon would hord (shiney things).
StoryLine:
I love the way Julie Kagawa writes. Her writing is the sort of writing that sucks you in and makes you soar through the pages. I read a big chunk of this is one sitting. I'm still sorting out how I feel about this book though. I enjoyed the book, it was a quick, fun, read. But, it left me feeling deja vu. And I think I figured out why. There are so many cliches and tropes in the book, and even with the dragons and dragon slayers, it just didn't feel that original. The overall feel of the book tickled my memory and reminded me of
something
. Like how when you catch a whiff of a smell, and you know you know that smell, but you can't quite recall what the smell is. That's what I felt like after I finished the book. I was expecting more incredible world building, and crazy awesome dragon-ness. What I got was a paranormal romance that happened to have dragons and dragon slayers instead of, say, vampires and vampire hunters, or werewolves and werewolf hunters. It felt a bit recycled.
Characters:
Even the characters were typical: We have the snarky, stubborn, sort of naive main character, the seemingly perfect all-around boy-next-door who isn't exactly what he seems, the bad boy rebel that the main character can't help but be attracted to, the brother that was like a best friend but now is keeping secrets and drifting apart, and the friend who is boy crazy but is always there when the main character needs her. I actually did really like Garret and Dante and even Riley. I can forgive Ember for her whining about just wanting to have fun and surf and be free, because frankly, that was how I was when I was her age during the summer. I didn't want to work or babysit or do chores, I wanted to have
fun
dangit! But, she was just so naive and blind and at times I just wanted to knock her upside the head and say "how can you miss that? How do you not get it? Look at the signs, they're right in front of you!" And the two friends (I don't even remember their names) were both pretty flat and forgettable.
Parting Thoughts:
It wasn't bad, like I said I did enjoy it, and I will continue the series (if only for the gorgeous covers. I mean come on. Have you seen them? I love them!) And since I still managed to enjoy it so much, even though it wasn't exactly original, I'm giving it 4 stars.
4/5 Stars