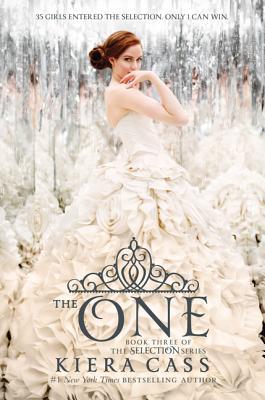 Title:
The One (The Selection #3)
Author:
Kiera Cass
Publish Date:
May 6th 2014
"The time has come for one winner to be crowned. When she was chosen to compete in the Selection, America never dreamed she would find herself anywhere close to the crown—or to Prince Maxon's heart. But as the end of the competition approaches, and the threats outside the palace walls grow more vicious, America realizes just how much she stands to lose—and how hard she'll have to fight for the future she wants. "
I somehow managed to sign up for a regional class at my university this semester, which means when its time to take a test, I have to drive 2 hours away to do so (even though I live right next to the main campus, its infuriated). I managed to con my boyfriend into driving me to one such test today, and managed to finish this book during the 4 hour round trip.
I read The Selection and The Elite a little over a year ago, so it took some time to fully piece back together everything that had happened prior to this book. After getting back into the groove of the story, I had to problem flying through the pages. The twist with Aspen was so obvious to me that I didn't realize at first that America
didn't
realize it. Sometimes I just wanted to hit a few of the characters upside the head, in a good way, if that makes sense.
I think, because I've read so many high fantasy books lately, it took me a little bit to remember that America isn't a heroine in the warrior sense, but more in the political sense. She's brave, passionate, believes in a better world for her people, and actually takes steps to reach that goal.
This series has been one of guilty pleasure reads. It's definitely a Disney fairy tale type of story, albeit a slightly darker one(featuring extreme poverty, war-torn lands, and a fair amount of death). And of course we got our happy ending complete with glimmers of hope for the future.
4/5 Stars