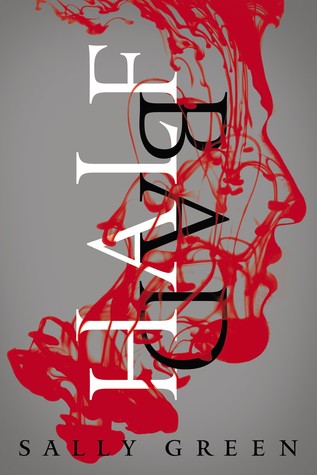 Title:
Half Bad
Author:
Sally Green
Publish Date:
March 4th 2014
"Wanted by no one.
Hunted by everyone.
Sixteen-year-old Nathan lives in a cage: beaten, shackled, trained to kill. In a modern-day England where two warring factions of witches live amongst humans, Nathan is an abomination, the illegitimate son of the world's most terrifying and violent witch, Marcus. Nathan's only hope for survival is to escape his captors, track down Marcus, and receive the three gifts that will bring him into his own magical powers—before it's too late. But how can Nathan find his father when there is no one safe to trust, not even family, not even the girl he loves?
Half Bad is an international sensation and the start of a brilliant trilogy: a gripping tale of alienation and the indomitable will to survive"
StoryLine:
I had a bit of a hard time getting into this book, and I like a lot of that has to do with the writing style of the book. It's incredibly present tense. It felt like someone asked the narrator to walk us through step by step everything that he did. "I walk across the room. I pick up a cup. I take a sip. I look at her. She falls to the ground" (not an actual quote but you get the point) It did a really good job of keeping me skimming the surface and never quite absorbing into the story. It just didn't flow well and was distracting. Another thing is the first ~150 pages (minus the ~20 pages of second person in the beginning) is basically one big flash back, and it reads like one too. We literally spend half the book learning what already happened.
Then, when we do get to the present, not very much happens. The plot doesn't even really start to move along until basically the end. The whole book just feels like a prequel leading up to the second book where, presumably, the real story begins.
There was a bunch of random snapshots of Nathan's past that, while interesting, could have become its own separate novella, Half Bad 0.5, to give the option of looking into Nathan's childhood. Then the last ~20% of the book, plus a couple well placed flashbacks, could have become the beginning of the first book.
Characters:
The other thing is since this isn't a plot driven story and more of a character driven story for the first 75% of the book, I expected to find more depth in our main character. Instead, I had a hard time connecting to Nathan, and found him a bit bland and flat, especially at first. I did enjoy some of the secondary characters, namely gran, Arran, and Gabriel, Celia, Bob, and Mary. I found Annalise to be pretty dull, but I ship Gabriel and Nathan so hard. In fact, that realization was part of what raised my rating and overall perception of this book. I totally wasn't expecting that and was pleasantly surprised by it.
Parting Thoughts:
Half Bad has all the makings of greatness, and as such I have high expectations for Half Wild, even though the first book didn't impress me like I hoped. But Half Bad did set up for a potential awesome sequel, and I feel (and hope) that it may be one of those rare instances where the second book outshines the first
3.5/5 Stars