Don't forget to enter my 100 follower giveaway here.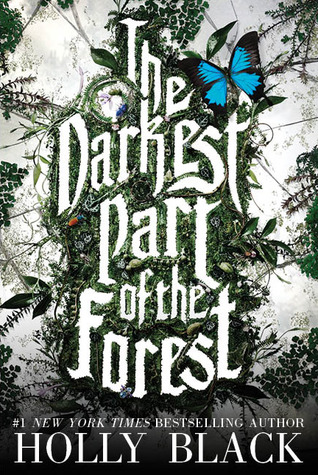 Title:
The Darkest Part of the Forest
Author:
Holly Black
Publish Date:
January 13th 2015
"Children can have a cruel, absolute sense of justice. Children can kill a monster and feel quite proud of themselves. A girl can look at her brother and believe they're destined to be a knight and a bard who battle evil. She can believe she's found the thing she's been made for.
Hazel lives with her brother, Ben, in the strange town of Fairfold where humans and fae exist side by side. The faeries' seemingly harmless magic attracts tourists, but Hazel knows how dangerous they can be, and she knows how to stop them. Or she did, once.
At the center of it all, there is a glass coffin in the woods. It rests right on the ground and in it sleeps a boy with horns on his head and ears as pointed as knives. Hazel and Ben were both in love with him as children. The boy has slept there for generations, never waking.
Until one day, he does…
As the world turns upside down, Hazel tries to remember her years pretending to be a knight. But swept up in new love, shifting loyalties, and the fresh sting of betrayal, will it be enough?"
Cover:
I just love this cover? Have you seen it? Look at it. How can you not love it? It's so dark and wild looking and it was what first drew me in.
StoryLine:
Well, first things first, I read this in one sitting. I was just so engrossed, once I picked it up this morning, I couldn't stop. The writing here is amazing. I found myself stopping, rereading certain sentences and sections, just admiring the way they were written.
"Its fingers were sticks, its hair moss. It fed on sorrow and sowed corruption"
Something about the words just spoke to me. I'm usually too engrossed in a story to notice the writing, so it is rare that I take time to admire it, or to notice a quote that I love.
"Ben was taking her through the storm of grief...through the rage and despair...through the terrible loneliness, because there was no way to shut off grief, no way to cast it aside or fight against it. The only way to end grief was to go through it"
This isn't the light fluffy fairy tales that you're told as a child, this is a world with the classic dark and sinister type of fae. The kind that will kill you for being impolite or pouring dirty dish water on them. These gritty twisted fae are the stuff of nightmares. Yet, the people of Fairfold, while being respectful of the fae, lean more toward love for the fae than hate. They carry grave dirt in their pockets and wear their socks inside out, they offer apart of their apple harvest each year to Anderking, the king of the fae, but still the people of Fairfold stay, and apart of them loves the magic of it all.
The storyline here was so unique, at least to me. Outside of the typical fae creatures and lore, there's such a unique story here, the story behind the boy with the horns in the glass coffin in the forest, and the monster in the heart of the woods, and Anderking.
"There's a monster in our wood
She'll get you if you're not good
Drag you under leaves and sticks
Punish you for all your tricks
A nest of hair and gnarled bone
You are never, ever coming-"
Characters:
Along with amazing prose and awesome worldbuilding, I also really enjoyed the characters. Hazel never falls into the typical damsel in distress character that female characters in YA so often fall into. Hazel is a warrior, a knight, wild and fierce and brave.
Ben is tortured by his musical gift, desperate to fall in love with the man of his dreams and be normal. Yes, Ben is gay. I've said it many times before that we need more LGBTQ characters in YA, and not just in stories where the driving arc of the story is the fact that they are LGBTQ. Characters where being LGBTQ is a characteristic but not
the
defining characteristic. This is exactly what I mean when I say that. Ben is gay, he is just is. Yes, its a well known and mentioned fact, it does have some significance to the story, but he isn't just "that gay guy". I think it was brilliantly done. I also loved Jack and Severin.I loved the romances in this book.
Parting Thoughts:
I just really love this book. It was dark and twisted and addicting and engaging, and I definitely recommend it! You can buy the hardcover on Amazon
here
for only $9!
5/5 Stars
Click the book's cover to go to it's Amazon page(Disclaimer: I am an Amazon Associate, meaning I earn a small percentage for the items bought through my links). Description from Goodreads.