Don't forget to enter my 100 follower giveaway here.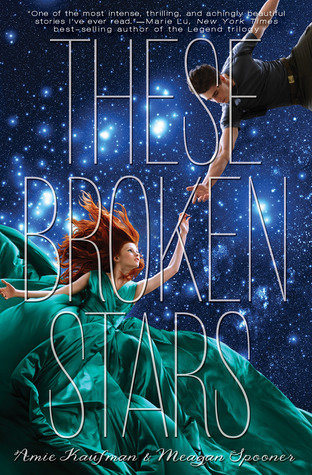 Title:
These Broken Stars
Author:
Amie Kaufman & Meagan Spooner
Publish Date:
December 10th 2013
"Luxury spaceliner Icarus suddenly plummets from hyperspace into the nearest planet. Lilac LaRoux and Tarver Merendsen survive -- alone. Lilac is the daughter of the richest man in the universe. Tarver comes from nothing, a cynical war hero. Both journey across the eerie deserted terrain for help. Everything changes when they uncover the truth.
The Starbound Trilogy: Three worlds. Three love stories. One enemy."
Cover:
This cover is absolutely stunning. I picked out this book, without having any idea of what its about, based on the cover alone. Plus, its a pretty acurate representation of the book, the characters look like how they should and Lilac wears that dress for a big chunk of the book.
StoryLine:
Part
Titanic
in space, part
I Shouldn't Be Alive
and part
Doctor Who/The Twilight Zone
, this is a sci-fi/fantasy/survivor story/romance all in one and I loved it! We start out on the glamourous
Icarus
, and have just enough time to get a taste for the gigantic luxury spaceliner when she is yanked from hyberspace and sucked into an unknown planets gravity. Our main characters Lilac LaRoux and Tarver Merenderson end up in a crew escape pod and just barely survive the crash down to the planet. Although the planet is terraformed, its quickly apart that something isn't right here. The flora and fauna are more wild and uncontained than they should be, and there doesn't seem to be any civilization on the planet.
I love a good survival story, and that comes in handy because a big chunk of this book is Lilac and Tarver trekking across the land, trying to survive and get rescued. But we also have mystery woven through out. Where are all the people? Why does Traver not recognize the plants and animals here? Why would anyone spend all this money to terraform a planet, and then seemingly abandon it?
And then the whispers start and theres even more questions. What are the whispers? Are they real? What do they want?
Characters:
For the majority of the book our only characters are Tarver and Lilac. Tarver is definitely swoon worthy, a decorated war hero he is strong, dedicated and honorable. He also is funny and sweet and I loved reading from his perspective every other chapter. Lilac starts the book out as a spoiled rich girl who keeps everyone at arms length, even if she has her reasons. We can see that she has the potential to be a loveable character but its buried under the entitled stuck-up girl persona. She does a lot of growing over the course of the book, and the bratty exterior is chipped away and a strong determined kind girl is revealed.
Parting Thoughts:
This books has a little something for everyone, and with plenty of twists and turns you'll be glued to the pages until the very end.
5/5 Stars
Click the book's cover to go to it's Amazon page(Disclaimer: I am an Amazon Associate, meaning I earn a small percentage for the items bought through my links). Description from Goodreads.