Don't forget to enter my 100 follower giveaway here.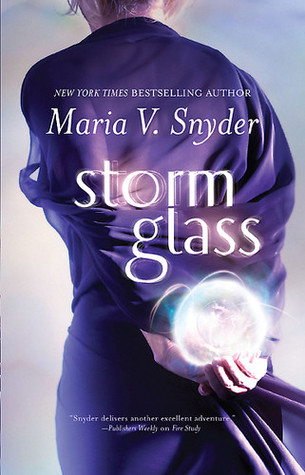 Title:
Storm Glass (Glass #1)
Author:
Maria V. Snyder
Publish Date:
May 1st 2009
"As a glassmaker and a magician-in-training, Opal Cowen understands trial by fire. Now it's time to test her mettle. Someone has sabotaged the Stormdancer clan's glass orbs, killing their most powerful magicians. The Stormdancers—particularly the mysterious and mercurial Kade—require Opal's unique talents to prevent it happening again.
But when the mission goes awry, Opal must tap in to a new kind of magic as stunningly potent as it is frightening. And the further she delves into the intrigue behind the glass and magic, the more distorted things appear. With lives hanging in the balance—including her own—Opal must control powers she hadn't known she possessed… - powers that might lead to disaster beyond anything she's ever known. "
StoryLine:
Storm Glass managed to be just as addicting as Poison Study was. While the other two Study books were good books and fast reads, they didn't quite reach the devouring level that Poison Study had. But Storm Glass did. I tore through this book. I couldn't get enough. And still, even though this is now the 4th book in this world, we still have new, interesting world building.
We get to learn about the Stormdancers, which introduced a whole new level of lore and world building. I love how within Sitia, all the separate clans offer individual and unique cultures to explore. In Storm Glass, we get more of an idea of how distinct all of the clans really are. Instead of being like different states coming together to make a country, it's almost like different countries coming together.The clans have so many differences in culture and way of life and its just amazing. Again I'm impressed with how complex and developed this world is that Snyder created.
Characters:
We first met Opal in Magic Study, and she was just a young girl, scared for her sister. Years later we catch up to Opal, and find that she's still scared, and even shes a glass magician, and creator of the glass messengers that Sitia is starting to depend on, she has no trust and confidence in herself. She blames herself for the betrayal she made 5 years ago, even though the one she betrayed forgives her. She undermines her importance, her power, and her worth. I started out wanting to shake the girl. She's so self deprecating its sad.
Thankfully she develops as a character as the book goes on, and gains some confidence, though she still has a bit to go before she is fully realised as a character. We get to see some of our old favorites return for small roles. And we finally get to see more of Master Magician Zitoria. We also get to meet a whole cast of new characters as well.
Parting Thoughts:
Storm Glass was a great start to a spin off series from Maria V. Snyder. Enough old elements to attract and satisfy fans of the Study series, but able to stand apart as its own book and series.
5/5 Stars
Click the book's cover to go to it's Amazon page(Disclaimer: I am an Amazon Associate, meaning I earn a small percentage for the items bought through my links).Description from Goodreads.