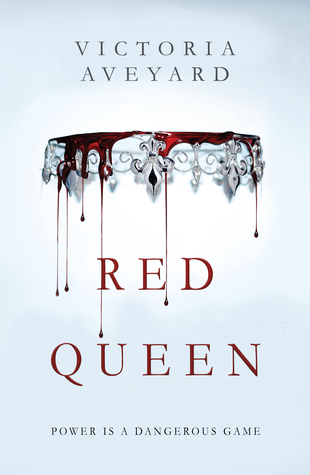 Title: Red Queen (Red Queen Trilogy #1)
Author: Victoria Aveyard
The poverty stricken Reds are commoners, living under the rule of the Silvers, elite warriors with god-like powers. To Mare Barrow, a 17-year-old Red girl from The Stilts, it looks like nothing will ever change. Mare finds herself working in the Silver Palace, at the centre of those she hates the most. She quickly discovers that, despite her red blood, she possesses a deadly power of her own. One that threatens to destroy Silver control. But power is a dangerous game. And in this world divided by blood, who will win?



Cover:
I like how clean and pretty, yet striking the cover is.
StoryLine:
Mare is a Red in a world ruled by Silvers. Weak, poor, powerless, Reds are born to serve the Silver, and it's all they are good for. And the Silvers aren't just rich and noble, they are powerful, literally. All Silvers are born with silver blood and superpowers. And it's this difference that keeps their world cleanly split between the haves and the have nots.
That is, until Mare comes crashing down and threatens everything they previously knew. Red blood, Silver power. And with a Red rebellion on the rise, Mare is forced to be the royal families secret weapon to stop the uprise in it's tracks.
I did find parts of the books predictable, but while I had a feeling that some things would happen, the ways they did were always surprising and brilliant. And there wasn't just a love triangle, there was a love knot. One more love interest and it would have been overboard, and as much as I loved this book it still bordered on it.
I loved the premise of this book. The god like Silvers is such a fascinating idea. I could stop wondering why they were, how come there was this almost sort of sub species of humans. Why happens if Silver and Red mate? Did Silvers just appear one day? Was it a gradual evolution from Red to Silver? The beginning of the book said that there was a time where the Silver weren't in power, but was there ever a time when there were no silvers? The world building made me think and that's one of the best things a book can do.
Characters:
While there were some characters that were just plain evil, and some that were basically good, I loved that there was also complicated characters, both good and bad, real characters that make real mistakes and have real flaws. This is why I enjoyed Maven and Cal so much. Should I hate him? Should I love him? Do I trust him? Does he have hidden motives? I found myself asking myself these questions about both of the princes
Parting Thoughts:
My one regret is now I can't wait for the next book. The hardest thing about reading a new release this amazing that's a first in a series is knowing that it will be years before you get to read the whole story. I cannot wait until the next book.
5/5 Stars
The description is from Goodreads. Click the book's cover to go to it's Amazon page(Disclaimer: I am an Amazon Associate, meaning I earn a small percentage for the items bought through my links).