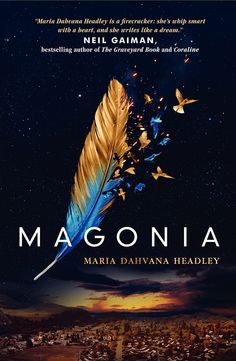 Title: Magonia
Author:
Maria Dahvana Headley
Publish Date:
April 28th 2015
Aza Ray is drowning in thin air. Since she was a baby, Aza has suffered from a mysterious lung disease that makes it ever harder for her to breathe, to speak—to live. So when Aza catches a glimpse of a ship in the sky, her family chalks it up to a cruel side effect of her medication. But Aza doesn't think this is a hallucination. She can hear someone on the ship calling her name. Only her best friend, Jason, listens. Jason, who's always been there. Jason, for whom she might have more-than-friendly feelings. But before Aza can consider that thrilling idea, something goes terribly wrong. Aza is lost to our world—and found, by another. Magonia. Above the clouds, in a land of trading ships, Aza is not the weak and dying thing she was. In Magonia, she can breathe for the first time. Better, she has immense power—and as she navigates her new life, she discovers that war is coming. Magonia and Earth are on the cusp of a reckoning. And in Aza's hands lies the fate of the whole of humanity—including the boy who loves her. Where do her loyalties lie?
The writing of this definitely takes some getting used to. It's a bit erratic, the narrative seems to get sidetracked and interrupt it's self. After about the first chapter I became used to it. I got the impression of reading an unfiltered stream of consciousness. I felt like I was drawn into some sort of fever dream while reading this. Because of this, I can see how people would draw comparisons between Going Bovine and this book.
Cover:
I love the cover! A beautiful gold and blue feather with birds breaking off and flying away into the night sky? Yes please! This is one of those books that will look beautiful on any bookshelf.
StoryLine:
I was impressed by the unique world building and lore that went into this. I had never heard of any of the mythology behind the premise, and it's so refreshing to learn new myths. There's so much more lore out there than just vampires, werewolves, fae, witches and aliens and I love when a book explores the less known myths. I can write a review of this book without mentioning the scene that happened about 25% of the way through the book. I won't spoil it, but it was powerful. I legitimately cried for 2 whole chapters. To manage to make me cry so hard after only ~50 pages of story is a huge accomplishment.
Characters:
Aza was a good character, snarky, but a little too snarky in the beginning. But there's some good character development and she becomes more redeemable. The relationships between Aza and her family were fantastic. YA books tend to learn towards weak or non existent family ties, but Magonia showed that you can have a loving family and still make a good book. And oh Jason, I loved Jason. He was my favorite character. He's just so endearing.
Parting Thoughts:
If you're looking to get swept up in a crazy, fever dream-esque adventure full of amazing world building, unique lore, and a good dash of emotion, look no further than Magonia!
4/5 Stars
Click the book's cover to go to it's Amazon page(Disclaimer: I am an Amazon Associate, meaning I earn a small percentage for the items bought through my links). Goodreads Link