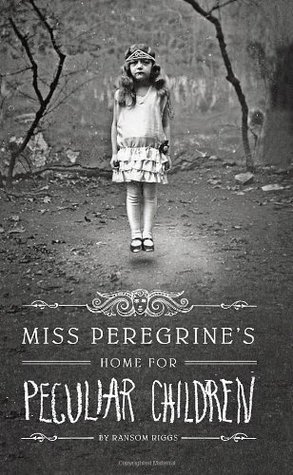 Title:
Miss Peregrine's Home for Peculiar Children
Author:
Ransom Riggs
Publish Date:
June 7th 2011
"
A mysterious island. An abandoned orphanage. A strange collection of curious photographs.

A horrific family tragedy sets sixteen-year-old Jacob journeying to a remote island off the coast of Wales, where he discovers the crumbling ruins of Miss Peregrine's Home for Peculiar Children. As Jacob explores its abandoned bedrooms and hallways, it becomes clear that the children were more than just peculiar. They may have been dangerous. They may have been quarantined on a deserted island for good reason. And somehow—impossible though it seems—they may still be alive.

A spine-tingling fantasy illustrated with haunting vintage photography."
StoryLine:
I went into this book totally blind; I had no idea what this book was about. I could tell by the title that it would be a bit spooky, and that was enough for me. I am so glad that I did pick this up. First off, if you don't already know, Miss Peregrine's is laced throughout with vintage photos to help illustrate the story. I absolutely loved this, and it really added another level to the story. When I was younger, we used to try and make up background stories for old pictures, or for strangers on the street. It's almost like Ransom Riggs was taking a creative story class, was handed a pile of old photos, and told to create a story to tie them all together, And it really worked, the photos are worked in almost seamlessly.
Another thing I loved was the fact that the main character reveals important details at the right time. A character would tell him to look out for anything weird, and he would be like, you know, I did notice such and such. In a lot of stories, he would have "forgot" or chose not to mention that and it would bit him in the bottom later. The story continued to have mystery and untold secrets without having to use lack of communication as a plot device.
Characters:
I thoroughly enjoyed the characters in this book! There was such an odd assortment of bizarre individuals, and they really add to the eery feeling of this book. There's an invisible boy, a girl who can make fire, a boy who can reanimate the dead, a girl, a girl who has a mouth on the back of her head, a boy who has bees living inside him. There's also antagonists with tentacles coming from their mouths, or pupil-less eyeballs. It's like the making of some sort of sideshow, but we get to see that they aren't that much different than anyone else, deep down.
Parting Thoughts:
If you're looking for a book full of intrigue, mystery, strange characters, a bit of history, and some creepy monsters, look no further. This book was not only a great story, but it was also very visually appealing.
4.5/5 Stars