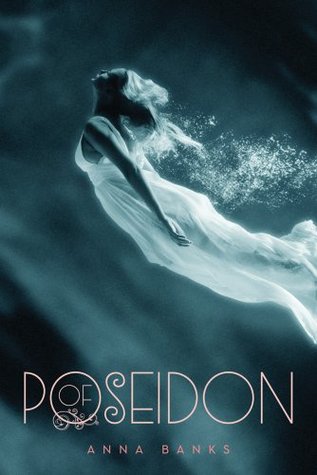 Title:
Of Poseidon (The Syrena Legacy, #1)
Author:
Anna Banks
Publish Date:
May 22nd 2012
"Galen is the prince of the Syrena, sent to land to find a girl he's heard can communicate with fish. Emma is on vacation at the beach. When she runs into Galen—literally, ouch!—both teens sense a connection. But it will take several encounters, including a deadly one with a shark, for Galen to be convinced of Emma's gifts. Now, if he can only convince Emma that she holds the key to his kingdom...
Told from both Emma and Galen's points of view, here is a fish-out-of-water story that sparkles with intrigue, humor, and waves of romance."
StoryLine:
When I was younger, I wanted to be a dolphin. Once I realized that was unlikely, I settled for being a mermaid. I've been mildly obsessed ever since. Mermaids are my favorite mythical creature (right before dragons), and I devour every mermaid story, movie, or show I can get my hands on. This book was a bit ridiculous, unrealistic, and a bit
too
convenient at times, and I loved every second of it. I loved learning about the Syrena and their abilities, social structures, and history. Unlike our typical idea of mermaids, Syrena have smooth gray tails like a shark. And going on land is strictly prohibited by all but the select few with special permission. So when Galen, the human ambassador/ Triton Prince, hears of a Syrena living on land amongst the humans, he goes to investigate. Which is how he meets Emma, who has the unique violet eyes of a Syrena, but has white-blonde hair and pale skin instead of the tan skin and dark hair that all Syrena display.
The plot twist/cliffhanger at the end was incredibly predictable to me, from about 15% in I had already guessed what isn't revealed until the last sentence of the book. There were points where I groaned out loud because it was
so
obvious yet no one got it.
Characters:
Almost all of the characters annoyed me at first but they started to grow on me. They all seemed to have this fiery temper, which apparently is a Syrena trait, and after awhile I started to find it entertaining. Especially when Emma develops an explosive temper as well. There's this scene where she literally throws herself and another through storm proof glass. It's like reality tv shows, way over dramatic, but you can't look away. Toraf was my favorite character in the book. He's just this big easy going goofball. He's the comedic relief, and without him the anger issues would have been overbearing.
Parting Thoughts:
If you're looking for a cute, if predictable, mermaid book, give Of Poseidon a shot.
4/5 Stars