I'm going to start a new feature called Quickies, where I'll do quick reviews of books that I've read. Today's Quickie will be on the first two books in the Tempest trilogy by Julie Cross.
Tempest (Tempest #1) by Julie Cross
Description from GoodReads:
"

The year is 2009. Nineteen-year-old Jackson Meyer is a normal guy… he's in college, has a girlfriend… and he can travel back through time. But it's not like the movies – nothing changes in the present after his jumps, there's no space-time continuum issues or broken flux capacitors – it's just harmless fun.

That is… until the day strangers burst in on Jackson and his girlfriend, Holly, and during a struggle with Jackson, Holly is fatally shot. In his panic, Jackson jumps back two years to 2007, but this is not like his previous time jumps. Now he's stuck in 2007 and can't get back to the future.



Desperate to somehow return to 2009 to save Holly but unable to return to his rightful year, Jackson settles into 2007 and learns what he can about his abilities.
But it's not long before the people who shot Holly in 2009 come looking for Jackson in the past, and these "Enemies of Time" will stop at nothing to recruit this powerful young time-traveler. Recruit… or kill him.
Piecing together the clues about his father, the Enemies of Time, and himself, Jackson must decide how far he's willing to go to save Holly… and possibly the entire world
.
"
I really loved the concept behind this book. It's not your typical time travel. And then getting stuck in your past, it's a really intersesting concept. I just wasn't too into the characters. I have a hard time believing love stories from a guys perspective when it's written by a girl. Jackson starts out really jerk-like, and then suddenly he's all "I love Holly, but I can't be with her but I can't stay away". And the fact that not only 2009 Holly take it, but they've been together for like 6th months, yet she still is constantly apologizing for wanting her boyfriend to treat her like a boyfriend should. Apologizing for wanting more than just casual sex from her boyfriend just makes her seem weak. Holly just isn't a lovable character to me, she comes across as meek.
My favorite character was Adam, the only reasons I finished this book was because of him and the interesting concept.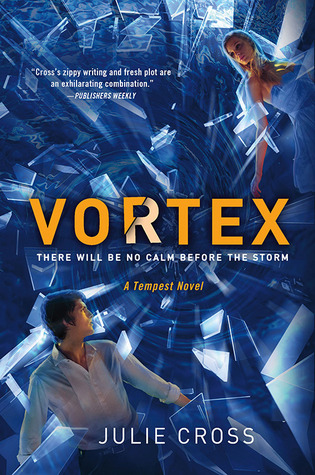 Description from Goodreads (minus spoilers):
"Julie Cross's Vortex is the thrilling second installment of the Tempest series, in which the world hangs in the balance as a lovelorn Jackson must choose who to save"
Without giving away any spoilers, I'll just say that I like this book better than the first, and it made it worth reading the first book. The old characters have become more likable, the new characters are likable, and the plot line is intriguing.