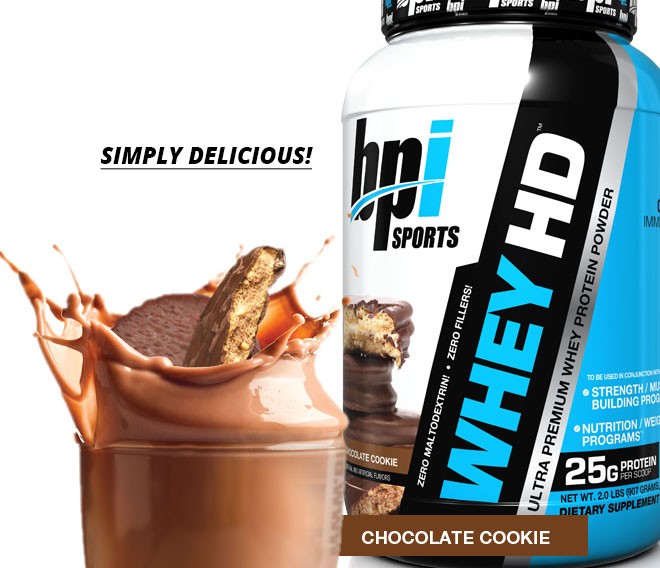 Add caption
Brand:
BPI Sports
Product:
Whey-HD
Flavor:
Chocolate Cookie
"
WHEY-HD | Ultra Premium Whey Protein Powder
When it comes to building, repairing, and maintaining muscle, getting enough quality protein is a top priority. Protein powder is an effective and convenient way to ensure you are getting enough protein on a daily basis.
What is WHEY-HD?
WHEY-HD is a modern day masterpiece containing ultra premium protein made from the best ingredients in a mouthwatering formula that truly tastes as good as it looks. Each 25 gram scoop is formulated to dissolve easily and digest quickly. WHEY-HD flavoring technology is designed and built by the finest flavor chemists in the food industry. Get the protein you need to build and sustain lean muscle mass with flavors that will have you looking forward to each sip.
What are the Benefits?
Lean Muscle Building Support* | Advanced Digestive Enzymes* | Premium Whey Formula*
."
Taste:
I absolutely loved the way this taste! It's very thick and chocolate-y and reminds me of brownie batter. The consistency is thicker than some other protein powders that I've tried, which is huge plus for me. I love that I can mix this in water and it still tastes great; this really improves the convenience factor. But my favorite way to eat this is so mix a scoop with a 50 calorie serving of margarine, to make a cookie dough type of consistency. Or, more accurately, a brownie batter consistency. Seriously, prepared this way, I feel like I'm eating brownie batter with a spoon, but I'm actually helping reach my protein goal.
Technical Aspects:
I found this to be relatively easy to mix. They seemed to have changed the formula since I bought my order, which saddens me a bit. The version I have is 126 calories, 2 g fat, 3 g carbs, 1 g fiber, and 25 g protein, the newer version has 150 calories, 3 g fat, 4 g carbs, no fiber, and 25 g protein. Now the formula's nutrition isn't
bad
, but as someone who likes to watch her net carb intake, I much prefer the older versions macros. One scoop is enough to keep me full for hours, and I haven't noticed any bloating like I've experienced with some other protein powders.
Parting Thoughts:
This an easy, delicious, way to supplement protein intake. And since you can get the 4.5 lb jug from
Amazon
for $47, this is also a very inexpensive protein powder at $9.50/ pound.
5/5 Stars